Blog entries posted in:

SEO Web Design

SEO genius Rand Fishkin over at SEO Moz has some thoughts about "overdoing" SEO, what it looks like, and how to avoid it. Continue reading →

Due to the growing number of developers coming up with a variety of applications that extend its Analytics Service, Google decided to compile all of these apps into the new Google Analytics App Gallery.  The gallery currently contains around 32 interesting Google Analytics apps contributed by some of Google Certified developers and partners.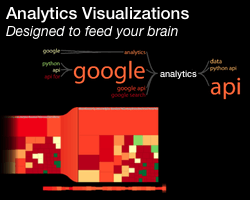 The Google Analytics App Gallery has around 12 categories which include site audit, campaign management, content management and more. In those categories you'll find Analytics apps such as the Analyticator for WordPress, WordStream Keyword Management for CEO and even the Analytics HD. Yup it's the Google Analytics App for iPad.
My personal favorite is the Anayltics Visualizations app powered by  the Google Analytics API and JuiceKit. This app displays the most frequently used search keywords and how they are used together.
Google will also be rolling out a new set of AdWords reports to the Google Analytics … Read the rest
Following are small quickies you should DIY for cheap and quick SEO of your site.
Choose good keywords
Time spent researching and selecting the best keywords will be time well spent. Get this step right and you will reap the rewards further down the line. However, if you fail at this stage your future efforts could be in vain. To help you achieve the most effective keywords take a look at these keyword research tools.
Always use the title tag
The title tag is one of the most important tags when it comes to search engine optimisation. Write a unique title tag for each page on your web site. The title tag should accurately reflect the page content, should make sense to visitors and should also include your keywords or phrases, ideally at the beginning of the tag.
Write a good Meta Description tag
While the Meta Description tag will … Read the rest